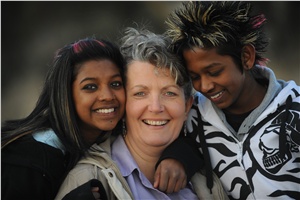 A CANBERRA family who adopted two children from India is still waiting for an investigation into their case more than a year after notifying Indian authorities.

Julia Rollings and her husband Barry adopted brother and sister Akil and Sabila from Madras Social Service Guild orphanage in Chennai, in August 1998.

They understood the children, then aged about two and three, arrived at the orphanage in October 1996 after being relinquished for adoption by their mother.

The Rollings family mounted a private investigation in India after reading reports that one of the orphanage's staff was arrested on charges of kidnapping.

In April 2006 they discovered Akil and Sabila's father had sold them to child traffickers for 500rupees ($A50).

At least 30 children adopted from India by Australian families may have been kidnapped and sold by child traffickers, according to Time magazine. The investigation, published this weekend, reveals kidnappers stole "pretty" children from poor neighbourhoods in southern India and sold them to adoption agency Malaysian Social Services for $A265 each.

The adoption agency and the orphanage are based in Chennai in the Indian state of Tamil Nadu. Both had their inter-country adoption licenses suspended in 1999 after revelations they were implicated in child trafficking, but were later re-licensed.

In one case, a Queensland family recently learned that the girl they adopted through the agency, who is now nine, was snatched from outside her family home as a two-year-old.

"I feel a great deal of sympathy for the Indian families that have been caught up in this drama and also for the Australian families," Ms Rollings said.

After learning the truth 18 months ago, the Rollings family tracked down Akil and Sabila's birth mother and met her in India.

"We're now in a position thankfully that our kids feel very positive about their reunion and the wonderful relationship that has developed," Ms Rollings said.

The Rollings family are continuing to call for an investigation into the case of their son and daughter.

"We want an investigation so our children can know for certain what happened. And most importantly so their other mother can get justice. She's the one who's lost the most in all this," Ms Rollings said.

India's Central Bureau of Intelligence insists birth families should be allowed to see their children again in India.

But Ms Rollings said adoptive families would need assurances from Australian and Indian authorities that their children would not be taken from them.

"The families need to feel very confident there was no question of the children being removed."

"There was no way my children would have come overseas unless they felt completely confident they would be returning back home with us."

Opposition Leader Brendan Nelson said yesterday that if inquiries revealed children had been kidnapped, there was a moral responsibility to "do the right thing".

"And the right thing, we would expect in most cases, will be to look at returning them to their rightful families."

Attorney-General Robert McClelland said it would be a matter for the courts.

"Under Australian law, these children are Australian citizens and the children of the adoptive parents. Under the Hague Convention, birth parents may bring an action in an Australian Court to have the adoption revoked. However, any decision would be a matter for the courts, which would apply the principle of protecting the best interests of the child."

He said the Government was treating the allegations seriously.